Going Viral is the sixth episode of the sixth season of Workaholics that first aired on February 18, 2016. It is also the 72nd episode overall.
Synopsis
Edit
When a social media expert comes to the office, the guys compete to hone their personal brands.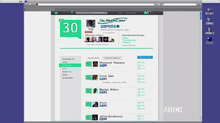 The episode start with Blake making a Strawberry Latte Bull, which is a combination of Strawberry Quick, Coffee and Red bull. Adam shoots a bird with his slingshot and the bird dies after falling and drowning in the pool. at work, the guys check a video featuring Trilly Zane a man who´s best known for using the social media and new media to connect everyone. Trilly comes to Telamericorp as he plans to use the social media to gather followers and make more sales at Telamericorp. He announce that the employee who gets the highest cloud score will win a trip to lake Havasu.
The guys decide to do a video featuring themselves, but their video only gets 2 viewers. Trilly suggest that the guys should gather more followers by adopting a new persona for their videos. Adam adopts a "cool guy "persona, Blake adopts a "juvenile prankster" persona pulling pranks at his father who is played by Karl, Anders adopts an "american conservative" persona talking about how great America is. The guys manage to gather more followers in the internet.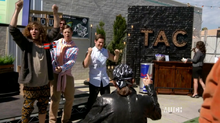 But their friendship is put on jeopardy as they begin to criticize each other to the point they start sabotaging each other videos. Adam´s instragam account gets deleted, after he accidentally posted a picture of his penis on instragam. The trio realize how much the brand stuff has damaged their friendship and they decide to do a stream on periscope to get the highest cloud score.
The guys arrived to the Tac radio party at Telamericorp and deliver a speech to everyone telling them that they don´t have to pretend to be someone they´re not just to get followers. Everyone start deleting their accounts and Alice doesn´t mind because ever since Zane came to Telamericorp they haven´t made a single sale. However, Bill notices that the trio´s account "The3BestFrandz" is the only one remaining so the three win the trip to lake Havasu.
Also starring
Edit
Guest Starring
Edit
Clark Duke as Trilly Zane
Bill Stevenson as Bill
Co-starring
Edit
Waymond Lee as Waymond
Xin Feng D. Lee as Diane
Gary Buckner as Ghostman