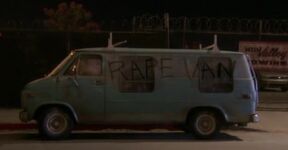 Karl's Rape Van, according to Anders, is a "filthy, creepy van that someone wrote 'RAPE VAN' on the side of".
The van is a large, full sized passenger van with very light blue paint (mostly covered by dirt and rust). The interior includes a significant amount of homey comforts, such as chairs, plaques on the walls, an amplifier and other musical accompaniments (keyboards, microphones), and marijuana smoking paraphernalia. The van itself serves as a makeshift recording studio for his concept album, We're Banging Aliens.
When pressured by Anders about the condition of the van, as well as the markings (shown above), Karl simply replies, "I wrote that. The van doesn't have any locks, and the word RAPE keeps all the weirdos away, bro".
The van doubles as HQ for a breaking & entering mission in the Season 1 episode, Checkpoint Gnarly.
In Season 5, Karl trades the Rape Van for a Rape Tank, which is a T34 North Korean tank that Karl was able to get from Waymond Womano.
Variations
Edit
GRAPE VAN
GRAPE MUSIC VAN
GRAPE MUSAGE VAN
SURAP VAN
RAP MUSIC VAN
SARAPE VAN
RAPE VAN