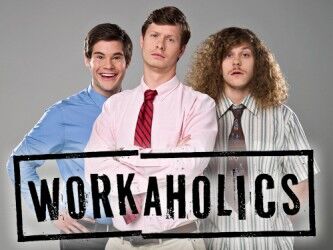 Workaholics is a comedy television series aired on Comedy Central in the United States and the The Comedy Network in Canada. The show is based around "slacker comedy" and characters who do not take work seriously, but rather indulge in drinking, parties, and marijuana. The pilot episode premiered on April 6, 2011. The entire show focuses on the lives of TelAmeriCorp salesmen: Blake Henderson, Adam DeMamp and Anders Holmvik who met in college and all dropped out together.
Workaholics is shown in a single-camera, situational comedy fashion and is set in Rancho Cucamonga, California. The theme song to the show is "Jock Box" by The Skinny Boys.
Season 1 officially aired on April 6, 2011, but a sneak peek was shown after the Comedy Central Roast of Donald Trump on March 15, 2011. The season primarily focused on the shenanigans the trio take apart in. We are shown their lifestyles of partying, smoking marijuana, and their lack of seriousness in working. Their adventures include partying with their boss' brother afflicted with Down syndrome, finding ways to pass a drug test, and trying to stop their CEO from liquidating the company. Season 1 concluded on June 8, 2011.
Comedy Central has confirmed that they will air another season of Workaholics. It was originally scheduled to premier during the fall of 2011, but was later postponed to May 2012.
Comedy Central announced that Season 3 starts on May 29th, 2012.
Community content is available under
CC-BY-SA
unless otherwise noted.